| | |
| --- | --- |
| | This article is a stub and needs improving. Please check the talk page before you make any edits. |

The Alliance of Light is one of two warring Factions that originally comprised of the Elves but now includes the Humans as well. They are united by the Goddess of Light and try to earn her blessing. the alliance of light is the humans and elves.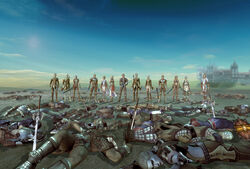 Ad blocker interference detected!
Wikia is a free-to-use site that makes money from advertising. We have a modified experience for viewers using ad blockers

Wikia is not accessible if you've made further modifications. Remove the custom ad blocker rule(s) and the page will load as expected.