The Fighter is one of three Classes available to the Humans.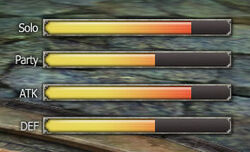 Fighters automatically gain + 1 to STR each Level.
Description
The Fighter is your standard melee combatant. Up close and personal is how the Fighter prefers confrontation. Physical attack power is the focus of the Fighter, but don't be fooled. A certain amount of Magical Points (MP) are needed to power the Fighter's devastating Special Skills.
Beginning Stats:
See Also